The Clark's Bears Summer Circus
You will want to take a seat at the covered show ring to enjoy these astounding performers during the days of summer.
Yandong Chinese Acrobats perform the flying forks (performed for ten years by Yandong's father, Du Hahn, for the Emperor of China), foot juggling, ladder balancing, contortion and more! You will be amazed by the work of Jingxia and Ya Ting as they combine the skills of balancing and the flexibility of contortion into an amazing performance. Chinese acrobats are taught movement coordination, how to step, how to move their hands, their eyes and their bodies. Audiences have been returning to Clark's for years to see what they will do next. One thing is for sure, they know how to please the crowd. This trio performs daily mid-June through Labor Day.
See schedule for specific dates and show times.
The Red Harlequin Juggler
For the first time ever, we welcome Vladimir Tsarkov and "Elena" to the Circus at Clark's! Vladimir, "The Red Harlequin Juggler" will amaze you with his timing and dexterity. Entertaining and talented, this juggler will keep you on the edge of your seat. He is accompanied by "Elena" the quick change sensation. How many outfits will she instantly change into? You will have to watch and see. They will be performing daily through Labor Day! Don't miss them!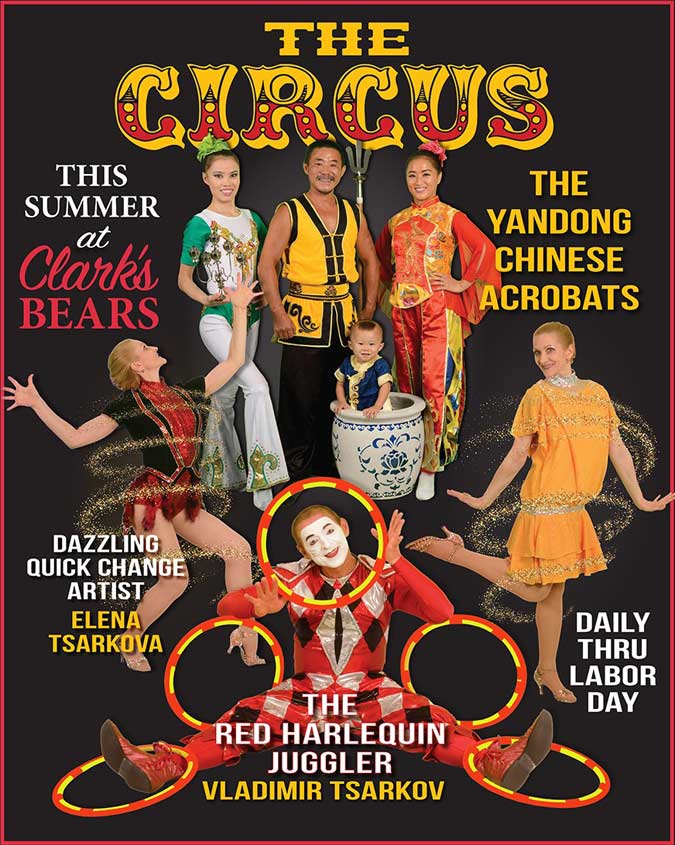 Gena Shvartsman Cristiani
Joining us again at Clark's Bears is Gena Shvartsman Cristiani, a fifth generation circus artist from Russia. The child of two accomplished performers, she began training at the age of eight in the art of juggling. In the span of a few short years, her talent brought her to the United States. By the age of thirteen, she was a star attraction for Ringling Bros, Barnum & Bailey Circus. Her skills and experience growing, Gena traveled the world performing in lavish variety and circus shows, as well as competing in elite circus competitions. She was awarded a silver medal at the prestigious International Circus Festival of Monte Carlo, and a silver medal at the Festival Mondial du Cirque de Demain in Paris, France. In addition, she took the coveted gold medal at the World Juggling Federation Championships in Las Vegas.