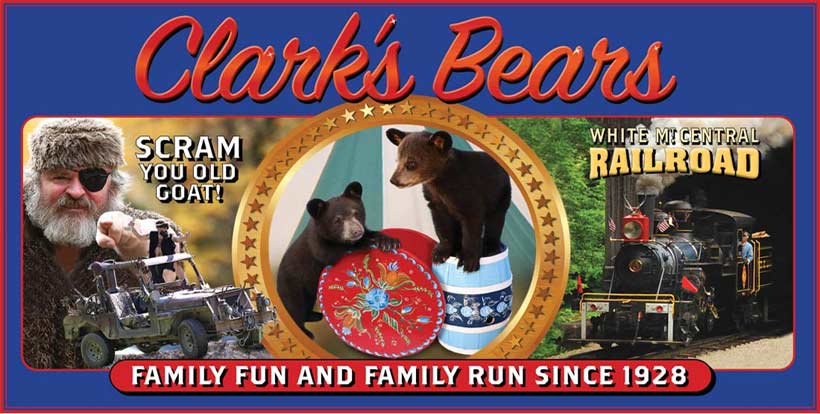 COVID-19 restrictions allow only a limited amount of tickets to be sold therefore, they sell out fast. Buy yours online now for the day of your visit up to two weeks out.
IMPORTANT NOTICE: You MUST choose an option for the Bear Show/Circus Act combination that you would like to attend when purchasing tickets.
Option 01 = 11:00 Bear Show/12:00 Circus Act.
Option 02 = 1:00 Bear Show/2:00 Circus Act.
Option 03 = 3:00 Bear Show/4:00 Circus Act.
COVID-19 INFORMATION:
Clark's Bears is happy to announce the park is open daily through Labor Day and weekends in the fall through Columbus Day. We have implemented health and safety measures related to COVID-19 under the guidance issued by the State of New Hampshire for you, other guests, and our employees. We expect you to follow all posted instructions while visiting Clark's Bears. Our number one priority is the health and safety of our guests and staff; we must all act responsibly to help stop the spread of COVID-19.
You will notice new procedures and policies in place across the property including social distancing markers, enhanced cleaning procedures, advanced online ticket sales, and the use of cloth face coverings by our employees. We strongly recommend our guests also wear cloth face coverings during their visit. These protocols follow recommendations and guidelines from the CDC and the NH Governor's Economic Re-Opening Task Force. Clark's Bears is also following Attractions/Tourism industryspecific guidance to maintain healthy business operations and a safe work environment. We will continue to adjust our operations and safety protocols to protect guests and staff as guidance evolves. We are working very hard to ensure a safe and enjoyable experience for our guests. We ask for your patience and understanding during these difficult times.
An inherent risk of exposure to COVID-19 exists in any public place where people are present. COVID-19 is an extremely contagious disease that can lead to severe illness and death. According to the CDC, senior citizens and guests with underlying medical conditions are especially vulnerable. By visiting Clark's Bears, you voluntarily assume all risks related to exposure to COVID-19 as there is no guarantee that you will not be exposed during your visit. Please help keep each other healthy and safe.
Remember to wash your paws and cover your muzzle!!
We can BEARLY wait to see you,
The Clark family