Running of the Bears 5K race on June 28, 2020
The 2020 Running of the Bears 5K has been cancelled. We look forward to it in 2021!
LOCATION: Clark's Bears, 110 Daniel Webster Highway, Lincoln, NH 03251.
REGISTRATION: Online registration is $30 per person ages 4 and above. Online registration will be open until June 26 at 11:45pm and includes:
One complimentary ticket to Clark's Bears (valid through the 2021 season)
One Running of the Bears technical fabric T-shirt. Shirt sizes are guaranteed if registered by June 7, 2020. Shirts after that date are while supplies last.
Additional donated schwag.
Race day registration is $35 per person and also includes a ticket to Clark's and a Running of the Bears T-shirt while supplies last.
DETAILS: The race will begin at 8:00am and will take place rain or shine. This is a BYOB race. Bring your own BEAR!! Each runner/walker needs to run with a teddy bear to qualify. Just in case you forget, teddy bears will be on sale the morning of the race. Strollers are allowed but must go to the end of the line up for safety reasons.
PARKING: Please use the north end of the Main Parking lot near the water tower for plenty of free parking.
RESTROOMS: There are plenty of clean restrooms inside the park at the Anaconda Escape and the Riverbank Restrooms.
CHECK-IN: Enter the park from the Anaconda Escape Raft Ride gate from 7:00am-7:45am for check-in. Your bib, complimentary T-shirt, schwag, and ticket to Clark's Bears will be available at the picnic pavilion.
NEW START & FINISH LINE: The new racecourse will start and finish inside the park in front of Merlin's Mystical Mansion. Wolfman will fire his shotgun to begin the race!
RUNNING OF THE BEARS NEW COURSE:
Line up in front of Merlin's Mystical Mansion.
Leave the park running under the Anaconda Escape Raft Ride.
Head south down the Clark's Bears parking lot.
Turn left onto Connector Road (Route 3A)
Turn right into the Hobo Railroad back entrance and through parking lot.
Turn right onto Route 112 West.
Turn right onto Route 3 North.
Cross Connector Road (Route 3A) and enter the Clark's Bears parking lot next to the Clark's sign.
Run up the parking lot and under the Anaconda Escape Raft Ride.
The finish line is at Merlin's Mystical Mansion.
There will be volunteers in yellow vests to direct you along the route.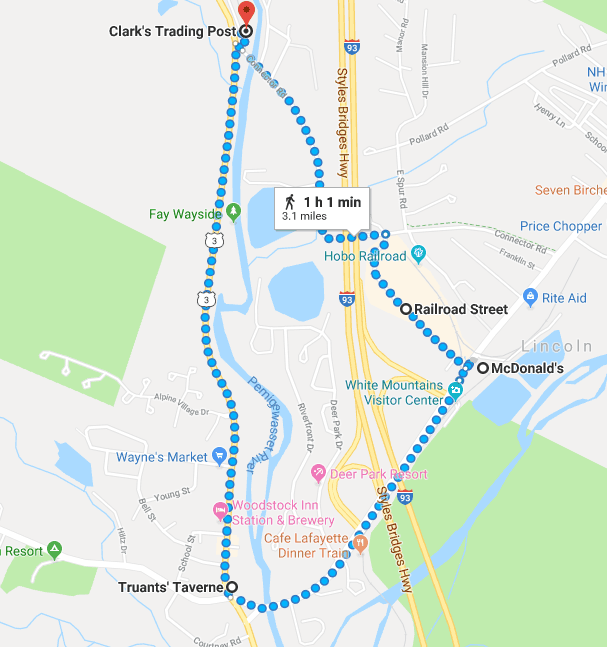 WATER STOP: There will be one water station along the way.
AWARDS: Awards will be given out in several age brackets for both male and female runners at 9:00am in the picnic pavilion inside the park. There will be trophies for the top three male and top three female runners. There will be awards for the top male and top female runner in each age bracket:
Ages 9 and under
Ages 10-14
Ages 15-19
Ages 20-29
Ages 30-39
Ages 40-49
Ages 50-59
Ages 60-69
Ages 70+
There will also be a variety of fun awards such as, running with the biggest bear, best bear costume, youngest participant, oldest participant and more.
BENEFIT: All proceeds will be donated to the Linwood Ambulance Service, a not-for-profit 501(c)3 organization. They are a group of dedicated volunteers who provide emergency medical services at the basic and advanced life support levels to the communities of Lincoln and Woodstock, New Hampshire. The Linwood Ambulance Service is grateful for your support!
MORE INFORMATION: For more information about the race contact Anne Englert at 603-745-8913 Ext. 19.
We can BEARLY wait to see you!