Cub Scout Adventure Day at Clark's Bears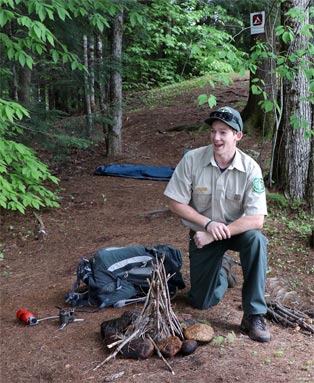 Clark's Bears in Lincoln, NH is proud to host the Cub Scout Adventure Days Program. Cub Scouts from Tigers to Webelos will have a day of learning and fun! In addition to the rides and shows that Clark's has to offer, the boys will enjoy the Junior Ranger Program presented by the US Forest Service. Cub Scouts will receive discounts throughout the park when dressed in uniform. There are Clark's Bears Scouting patches for sale in the main gift shop to remember your day. Your presentation will begin at the Scouting Tent and will have a limited amount of seating, so register early to reserve your spot!
1:00-2:30 JUNIOR RANGER PROGRAM for Tiger, Wolf, Bears and Webelos Scouts
Presented by members from the US Forest Service
Cub Scouts will learn outdoor awareness from US Forest Service members as they present segments on Bear Awareness, Leave No Trace, and Hike Safe. Each Cub Scout will receive a patch and a certificate for participating. These Cub Scouts will watch the 11:00 Bear Show.
COST - The cost is $27 per person, which includes both the Junior Ranger Program and entrance into the Clark's Bears Theme Park. Your ticket includes all rides, all shows, all day.
FAMILY MEMBERS - The Scout's family is welcome to visit Clark's as well, but only Scouts and Leader (or a parent) are allowed into the presentation. Family members ages 4 and above will receive the $27 rate per person but they must be included in the registration.
REGISTRATION - Registration is online only and must be received by April 30, 2022 to participate. Full payment is required at the time of registration. Scouts are able to register independently or with their entire Pack for the Cub Scout Adventure Day. This program does sell out, so register early to avoid disappointment. Canceled registrations will not receive a refund. Instead, they will receive tickets to visit Clark's Bears another day during the 2022 season.
CHECK-IN - Registered Scouts and their family must check-in at the Anaconda Escape (water raft-ride) gate from 10:00-11:00. At this time they will receive their hand stamp and the schedule for the day.
UNIFORM - Class A uniforms are preferred for this event.
FOOD - Lunch, drinks and snacks are available for purchase at Clark's. You may also choose to bring a bagged lunch if you so desire.
QUESTIONS - If you have questions the best way to reach me is to email Anne Englert at info@ClarksBears.com or call 603-745-8913 Extension 2.
Campgrounds within ten miles of Clark's Bears:
Private Campgrounds
Country Bumpkins: Lincoln, NH 603-745-8837
Lost Valley Campground: North Woodstock, NH 603-745-8321
Maple Haven Campground: North Woodstock, NH 603-745-3350
Waterrest Campground: Woodstock, NH 603-745-2586
Woodstock KOA Campground: Woodstock, NH 603-745-8008
White Mountain National Forest Campgrounds
Wildwood: Easton, NH
Hancock: Lincoln, NH
Big Rock: Lincoln, NH
NH State Park Campgrounds
Lafayette Place: Franconia, NH
Cannon Mountain RV Park: Franconia, NH
---
Clark's Bears
PO Box 1
110 Daniel Webster Highway
Lincoln, NH 03251