Take a journey through history, but beware of The Wolfman!
All aboard the White Mountain Central Railroad for a 25-minute 2½ mile train ride. Travel through our 1904 covered bridge across the scenic Pemigewasset River and into Wolfman's territory! This season we will be operating our General Electric diesel locomotive which was built in 1943. This 65-ton standard gauge engine was used on the Newport Dinner Train in Newport, RI. The White Mountain Central Railroad purchased this locomotive in 2004 and has used it when needed ever since.
The 1921 Climax steam locomotive will be out of service for the rest of the season due to a maintenance problem. We will continue to operate our regular train ride schedule using the diesel locomotive.
Locomotives are subject to change without notice.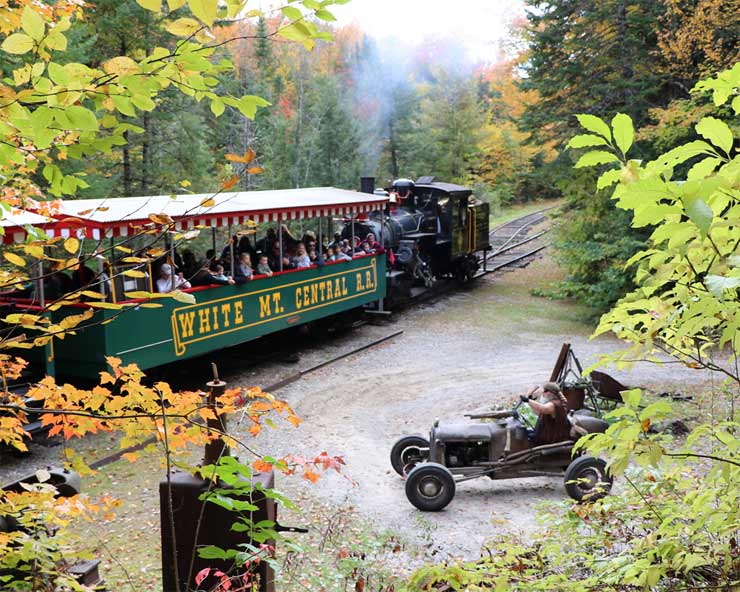 One of the favorite parts of the train ride for many passengers is coming face to face with the Wolfman. This longtime resident of these woods, the rabble rousin' Wolfman will amuse you with his antics, all in an attempt to keep curious visitors away from his secret mining operation of the precious mineral: Unobtainium. He never tires of using his many tricks to keep you off his land. Don't worry kids, Wolfman will not try to cross the bridge because he is too afraid of heights. He will not cross underneath the bridge because he is more afraid of water! In fact, Wolfman is so afraid of water that he hasn't taken a bath... IN YEARS! You will be returned safely to the beautiful Victorian train station where you can continue your day. Note to parents: Please use your discretion for your preschool children.
Click here for train schedule.
A History of the White Mountain Central Railroad
In the early 50's, fascinated by steam-power, the Clark brothers began to rescue steam locomotives from the cutting torch creating "green pastures for iron horses" at the Trading Post. Conceived with hard work and an impressive collection of locomotives - including models by Climax, Heisler, Shay and Porter - the White Mountain Central Railroad was born.
In 1963, with his two teenage sons and a dedicated crew in tow, Edward M. Clark dismantled a 1904 Howe-Truss railroad covered bridge in East Montpelier, Vermont. The team then transported the structure and reassembled it to span the mighty Pemigewasset River adjacent to the Trading Post grounds. A monumental accomplishment, our bridge is the world's only standing example of a Howe-Truss bridge.
Today, after 60 years of "moving people by steam," the White Mountain Central Railroad primarily relies on the Climax locomotive, one of only three left in operation worldwide.
Learn more about locomotive lore and railroad heritage in the Florence Murray Museum. or visit the White Mountain Central Railroad website at whitemountaincentralrr.com for more details about our railroad equipment.