The Bear Show
Introducing Darla and Hildie! These adorable bear cubs will be entertaining you this summer as well as your old favorites Pemi, Echo and Tula. These native black bears dazzle and delight with their impressive tricks and antics. Don't miss the famous Bear Show at Clark's.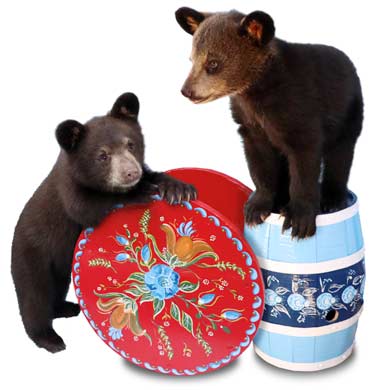 In 1949, brothers Edward M. and W. Murray Clark started teaching and training bears for show work, a tradition that Clark family members continue to this day. The late W. Murray Clark developed a rapport and understanding of these intelligent animals which he passed on to his children, the current trainers, Maureen and Murray Clark.
"Each performance is unique," Murray says. "The weather, dynamics in the den, audience reaction - any number of things can affect the bear's attention and distract them from the performance."
Truly a tradition among White Mountain vacationers, this entertaining and educational 1/2 hour show is a thrill for all. Unmuzzled and unleashed, the Bears enjoy performing for you in our covered show arena.
For specific dates and show times click here.