Remembering Ed and Murray Clark
Edward M. Clark
Lincoln lost a towering figure with the passing of Edward M. Clark on September 24, 2009. He was 85. Born in Mamoroneck, NY, Ed was 4 years old when in 1928 his parents Edward P. and Florence M. Clark moved to Lincoln. A man who epitomized Yankee ingenuity, Ed's talents and pursuits were varied and far-reaching.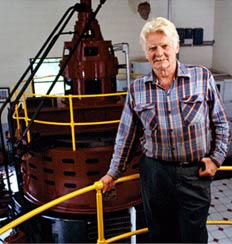 In 1942 at the age of 18, Ed was dispatched to Iceland on a top secret mission to train British troops how to handle Eskimo Sled Dogs. The British mission was to go by dogsled behind enemy lines in Norway to destroy a heavy water plant. When he returned from Iceland, he entered the US Merchant Marines where he served for the duration of World War II. He participated in the invasion of Normandy in June 1944.
Along with his brother W. Murray Clark, Ed was co-owner of Clark's Bears a tourist destination that has been entertaining summer visitors for over 80 years. In the early 1950's, the Clark brothers began to rescue steam locomotives from the cutting torch creating "green pastures for iron horses" at the Trading Post. Conceived with a lot of hard work and an impressive collection of locomotives; including models by Climax, Heisler, Shay and Porter, the White Mt. Central RR was born.
In 1963, with his two teenage sons Eddie and David and a dedicated crew in tow, he dismantled a 1904 Howe-Truss railroad covered bridge in East Montpelier, VT. The team then transported the structure to Lincoln and reassembled it to span the mighty Pemigewasset River adjacent to the Trading Post grounds. A monumental accomplishment, this bridge is the world's only Howe Truss railroad covered bridge still in active use. Ed was the general manager of the Cog Railway from 1974-1976, and then operated the North Stratford Railroad, a freight line that ran from Beecher Falls, VT to North Stratford, NH.
Ed was environmentally conscious long before it was fashionable. He was fascinated by the idea of clean, renewable energy. In 1979, together with his son Tom and son-in-law Peter Govoni, they began the development of hydroelectric power resulting in power plants in Lisbon, Littleton and Bartlett, NH.
Ed had a life-long love for his home town of Lincoln. After traveling the world as a merchant seaman, he declared that "All roads led to Lincoln". The Pemi Valley was the center of his universe and after World War II he settled here to build a future. Together with his wife, Joyce Avery, they raised five children, Eddie, David, Carol, Tom and Anne. Ed served on the Town's budget committee for many years and was selectman from 1962-1968. He was one of the original promoters of the White Mountains as a tourist destination by helping organize the White Mt. Attractions Association in 1958 and served as a charter director of the White Mt. Regions Association. The success in the tourist industry that Lincoln enjoys today can be traced directly back to those early efforts.
Pick a guy off the street. Can he drive sled dogs, lay steel rail, rewind a dynamo, rebuild a locomotive, move a bridge, produce pollution-free hydroelectric power, discuss political theory or make conversation with a bear? Edward M. Clark was such a man. His mantra to "Think Big" and "Be Great" should inspire us all to strive for excellence in our own pursuits.
Honorable W. Murray Clark
Lincoln - Hon. William Murray Clark of Murray Drive, Lincoln, passed away January 7, 2010, at age 82. Born on January 26, 1927, in West Milan, he was the son of Edward Pullman Clark and Florence Murray Clark.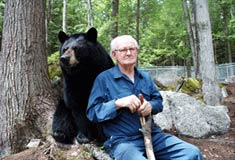 His legacy as bear trainer, showman, and entertainer at Clark's Bears spans many decades. He performed with his prized show bears for a remarkable 54 years, delighting thousands of visitors to Clark's each season. A master story teller, he endeared himself to audience members by relaying stories of his Lincoln boyhood, anecdotes about the bears, and by sharing behind-the-scenes glimpses of life as a bear trainer. "You really haven't lived until you've raised bear cubs in your kitchen," he'd deadpan, with his characteristic dry Yankee humor.
Murray and his brother Ed shared a philosophy that a visit to Clark's Bears should be educational, as well as entertaining. The brothers were avid collectors who took pride in displaying artifacts from bygone times, hoping to teach through preservation.
Murray loved to travel, and his periodic visits to Scotland brought him special joy. He first visited the country in February 1943, just weeks after his 16th birthday. At that time representatives of the British government, aware that he was an experienced sled dog driver, recruited him for a secret mission -- training Royal Scots Fusiliers to handle 40 sled dogs supplied by the Clark family for the war effort. Family lore has it that Murray was the youngest American civilian at that time to be issued a passport for an officially sanctioned war-related purpose. Murray often said that his time in Scotland during World War II was the greatest adventure of his life.
In 1944, Murray graduated from Lincoln High School. He was valedictorian, class president, and at age 17, the youngest member of his class. Referring to the strong influence his parents had on his life, he often stated that he got his education not only at Lincoln High School, but also at home at the kitchen table.
In March 1944, Murray enlisted in the U.S. Navy, arranging to leave in the fall, so that he could help his parents with the business through the summer season. The U.S. Navy selected him for the officer's training program, and he attended both Williams College and Brown University for this training.
In 1952 he married Barbara Avery of North Woodstock, and they worked together at the Trading Post for the next five decades. Their four children - Nola, Maureen, Murray, and Andrew -- began helping at the Trading Post as youngsters and currently, all are actively involved in the business.
In his life, Murray served as a North Woodstock fire fighter, a Boy Scout leader, and as president of the Lincoln-Woodstock Chamber of Commerce. Elected to the NH House of Representatives in 1972, he served ten years as a Representative to the General Court. Murray, who often used sled dog analogies to illustrate a point, stressed the importance of teamwork when discussing the success of Clark's Bears. At an anniversary celebration he made this statement: "The success of Clark's Bears is not the result of the work of any one or two individuals, but rather the efforts of many people all pulling in the same direction. What you see at the Trading Post today was not done by one generation of family, but several generations...it was a long, hard pull from 1928 when my parents looked over this land... The entire Clark Family and lots of helpers have worked at what you see-no one person can take credit for it."