Scouts BSA Merit Badge Fair
Automotive Maintenance
June 3, 2023 9:30-11:30
Presented by Matthew Baxter - This class will have a maximum amount of 15 Scouts.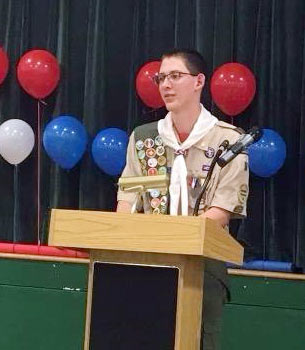 Matthew Baxter
Matthew Baxter has worked at Clark's Bears for nine years and has previously helped assist counselors during the Clark's Bears Merit Badge Fairs. He earned the rank of Eagle Scout in 2017 while in Troop 56 in Plymouth, New Hampshire. He earned the Automotive Maintenance merit badge while in Scouting which helped shape his interests in working on vehicles. He has done a great deal of work on his own vehicles as well as the company vehicles and equipment at Clark's Bears. Matthew graduated from Plymouth State University in 2022 with an Elementary Education degree.
Important information to review before arrival
*A large part of this course will be a hands on experience. There is an inherent risk in preforming maintenance on vehicles, and everything will be done to keep the class safe. It is very important that Scouts follow the counselor's instruction at all times.
** PPE (Personal Protective Equipment) will need to be brought from home including, a long sleeve shirt and pants that can get dirty to be worn instead of the Scout uniform. We also would like closed toe shoes preferably sneakers or some sort of boot. Scouts will also need to bring safety glasses or goggles, if possible. Clarks will provide gloves unless Scouts want to bring their own.
The presentation and hands on experience will fulfill requirements 1b, 2a-f, 3, 4b-d, 5c, 6b 7, 8, 9, 10, and 11. Please complete requirements 1a, 2g-i, 4a, 4e, 5a-b, 6a, and 12 as prerequisites so the merit Badge Counselor can sign off on your blue card.
The best way to complete this badge is to complete the workbook which can be found at this link: http://usscouts.org/mb/worksheets/automotive-maintenance.pdf
PREREQUISITE WORK DETAILS
Do the following:
Explain to your counselor the hazards you are most likely to encounter during automotive maintenance activities, and what you should do to anticipate, help prevent, mitigate, or lessen these hazards.
General Maintenance, Safety, and Registration
Do the following:
Explain the purpose, importance, and limitations of safety belts and passive restraints.
Find out the requirements for your state's emissions and safety inspections (as applicable), including how often a vehicle needs to be inspected.
Explain the importance of registering a vehicle and find out the annual registration fee for renewing your family car's registration.
Tires
Do the following:
Explain the difference between tire manufacturer's and vehicle manufacturer's specifications and show where to find them.
Explain how to dispose of old tires in accordance with local laws and regulations.
Engine
Do the following:
Explain how an internal combustion engine operates. Tell the differences between gasoline and diesel engines. Explain how a gasoline-electric hybrid vehicle is powered.
Explain the purpose of engine oil. Explain the API service code, the SAE number, and the viscosity rating.
Cooling system
Do the following:
Explain the need for coolant in the cooling system, and the importance of selecting the correct coolant type for a given vehicle.
Find out about three career opportunities in the automotive industry. Pick one and find out about the education, training, and experience required for this profession. Discuss this with your counselor and explain why this profession might interest you.
Back to Scouts BSA Merit Badge Fair | Top of Page ↑
Clark's Bears
PO Box 1
110 Daniel Webster Highway
Lincoln, NH 03251