Scouts BSA Merit Badge Fair
Scouting Heritage
June 3, 2023 from 1:30-2:30
Presented by Nadine Bergeron-Nutt
Nadine Bergeron-Nutt has been active in Scouting for decades. She is a merit badge Counselor for many badges and a wealth of knowledge regarding Scouting. Scouts should be honored to be present in her class.
This presentation will fulfill the Scouting Heritage requirements 1, 2, 3, and 7 during the presentation. Please complete requirements 4, 5, 6 & 8 as prerequisites so the merit badge counselor can sign off on your blue card.
PREREQUISITE WORK DETAILS
Below are specific items your counselor would like to see completed in your prerequisite work:
Requirement 4: Counselor Bergeron-Nutt would like to see what jamboree, museum or museum you attended, when, and some highlights of that event.
Requirement 5: She would like to know the names of the two people the Scout interviewed associated with their troop, someone from a while ago and someone that is there now. The person from a while ago can still be involved but has to have some history of the troop. Your counselor needs to see when their unit was originally chartered, a history of the troop which could include major trips, accomplishments, average size. It should be in a form of a report and the Scout needs to have a signature of their scoutmaster indicating they presented it to their patrol or troop at a court of honor.
Requirement 6: Scouts can take photos of a collection of personal patches or Scouting memorabilia. Scouts will need to share what they've learned about the patches in their prerequisite work.
Requirement 8: Your counselor would like to know the names of the three people the Scout interviewed (that were over the age of 40), what their Scouting experiences were like and what impact Scouting had on their lives.
Download the Scouting Heritage workbook [600 KB pdf]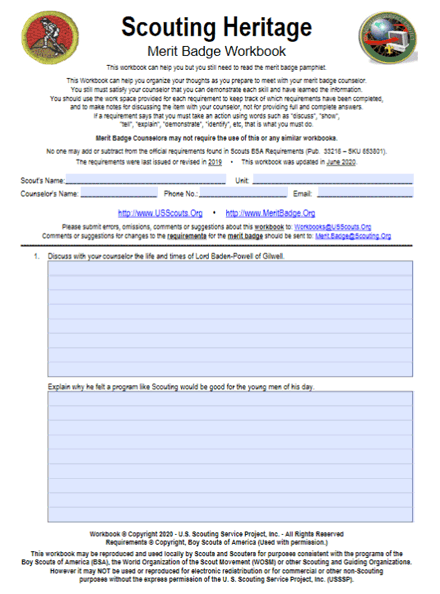 Back to Scouts BSA Merit Badge Fair | Top of Page ↑
Clark's Bears
PO Box 1
110 Daniel Webster Highway
Lincoln, NH 03251